Model Year Details
1978 - Class 3F Jinty Tank Locomotive

47458
Model:
Class 3F Jinty Tank Locomotive
(Overall Model page)
Running Number:
47458
Category:
Steam Locomotives

Locomotive Class:
Class 3F

Designer:
Sir Henry Fowler
Class Information:
The 3F tank engine; commonly nick-named Jinty's were actually based on rebuilds of the earlier Johnson 2441 class designed under the auspices of Samuel Johnson.
More...
Weight:
50 tons
Purpose:
Light Freight & Local Passenger
Wheel Arrangement:
0-6-0

Model Information:
* 24,000 solo models produced and 3,000 in sets.
Models Produced:
* 27,000
* Information from
Triang & Hornby, The Story of Rovex, Volumes 1, 2 and 3 - Pat Hammond
Company:
B.R. -
British Railways
Logo:
B.R. Late Crest
Logo Years:
1956 - 1967

Livery:
B.R. Black

Livery Details:
Black with red and white lining.
Company Information:
British Railways came into existence in 1948 when the dominating four British railway companies amalgamated. Steam traction on British Railways ended in 1968 and the system was re-branded as British Rail.
Year:
1978
Catalogue Number:
R.058
Year Information:
At the nationalisation of the railways, 412 of the Jinty class were incorporated into British Railways stock. The Hornby model is liveried in the BR lined black which superseded the LMS livery. The model features a fully detailed cab interior and finer scale wheels with brake shoes and hangers.
Model Motor:
X.03
Publication:
Hornby Railways OO Model Catalogue 1978
Publication Type:
Catalogue
Publication Edition:
24th Edition

Logo & Box Design:


UK Price List:
£9.25
Aust Price List:
---
Can Price List:
---
Model Ranking:
Current: 373 -
July 2020
Previous: 261 -
June 2020
Movement:

(-112)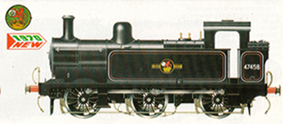 Model Year Details
(2)
Related Service Sheets
(5)
| NO | SERVICE SHEET NAME | ISSUE DATE |
| --- | --- | --- |
| 113 | 0-6-0 Loco Chassis - R.052, R.058 | October 1978 |
| 113 (Back) | 0-6-0 Loco Chassis - R.052, R.058 - Back | October 1978 |
| HR1978 | Locomotive Operation And Maintenance 1978 (Front) | 1978 |
| HR1978 (Back) | Locomotive Operation And Maintenance 1978 (Back) | 1978 |
| HR1978 C2 | Locomotive Operation And Maintenance 1978 (Class 2) | 1978 |
Model Photos & Notes
(0)
Class 3F Jinty Tank Locomotive on ebay UK

Search For: 'hornby (3f,jinty)'
Ending Soonest
ITEM
DETAILS
TRIANG HORNBY X67 BRUSHES TRAIN MOTOR X03 X04 CLASS 31 35 37 PULLMAN DMU JINTY - Store Inventory

Location: Bristol, United Kingdom
Condition: New
Current Price: £3.99 GBP
Time Left: 0d 12h 10m 9s
Bids: 0
Hornby R52 0-6-0 3F Jinty No. 47606 B.R. Black Loco - Auction

Location: Newcastle upon Tyne, United Kingdom
Condition: Used
Current Price: £15.00 GBP
Time Left: 0d 12h 24m 16s
Bids: 3
Hornby/Triang 00 Gauge BR 3F Jinty 0-6-0 Tank Loco R52 #47606 - Auction

Location: Yateley, United Kingdom
Condition: Used
Current Price: £8.05 GBP
Time Left: 0d 17h 0m 26s
Bids: 3
Hornby R2882 S&DJR Class 3F Loco - Auction

Location: Borehamwood, United Kingdom
Condition: New
Current Price: £30.00 GBP
Time Left: 0d 20h 9m 37s
Bids: 0
TRIANG HORNBY X67 BRUSHES TRAIN MOTOR X03 X04 JINTY GWR PANNIER TANK ENGINE - Store Inventory

Location: Bristol, United Kingdom
Condition: New
Current Price: £3.99 GBP
Time Left: 1d 12h 52m 39s
Bids: 0
Hornby R058 Jinty Locomotive BR 0-6-0TWorking OO Gauge Boxed - Store Inventory

Location: Marlborough, United Kingdom
Condition: Used
Current Price: £39.99 GBP
Time Left: 1d 13h 53m 4s
Bids: 0
Hornby R52 0-6-0 3F Jinty No. 47606 B.R. Black Loco - Fixed Price

Location: Swindon, United Kingdom
Condition: Used
Current Price: £22.00 GBP
Time Left: 1d 17h 32m 9s
Bids: 0
Hornby - R058 - Class 3F Jinty - 0 - 6 - 0T - 47458 with Late Crest - Auction

Location: Westhill, United Kingdom
Condition: Used
Current Price: £40.00 GBP
Time Left: 1d 17h 39m 55s
Bids: 0
TRIANG / HORNBY DUBLO / HORNBY - JOB LOT - JINTY LOCO, WAGONS & TANKERS - Auction

Location: Southport, United Kingdom
Condition: Used
Current Price: £14.50 GBP
Time Left: 1d 18h 36m 36s
Bids: 5
HORNBY RAILWAY, LMS LOCOMOTIVE 0.6.0 CLASS 3F TANK ENGINE - Auction

Location: Chelmsford, United Kingdom
Condition: Used
Current Price: £15.98 GBP
Time Left: 1d 19h 9m 20s
Bids: 0
HORNBY RAILWAY, BR LOCOMOTIVE 0.6.0 CLASS 3F TANK ENGINE - Auction

Location: Chelmsford, United Kingdom
Condition: Used
Current Price: £15.98 GBP
Time Left: 1d 19h 11m 36s
Bids: 0
Hornby R302 Class 3F Fowler 0-6-0 Tank Locomotive Fantastic Condition - Auction

Location: Bristol, United Kingdom
Condition: Used
Current Price: £21.01 GBP
Time Left: 1d 19h 31m 4s
Bids: 6
Triang Hornby R52 LMS 0-6-0 Tank Loco with smoke. Red Jinty. Boxed. - Auction

Location: Bath, United Kingdom
Condition: Used
Current Price: £12.50 GBP
Time Left: 1d 20h 26m 27s
Bids: 5
Hornby Princess Royal Class Maroon 46200 & Black Jinty 47606 Body Shells Only - Auction

Location: London, United Kingdom
Condition: Used
Current Price: £4.99 GBP
Time Left: 1d 20h 30m 39s
Bids: 0
HORNBY LMS JINTY BODY TOP (LOOK) - Store Inventory

Location: Wolverhampton, United Kingdom
Condition: Used
Current Price: £12.75 GBP
Time Left: 1d 21h 19m 46s
Bids: 0
Hornby R757 LMS Black Class 3f Jinty 2021 Locomotive Train (Rare) 00 Gauge - Auction

Location: London, United Kingdom
Condition: Used
Current Price: £19.99 GBP
Time Left: 1d 22h 11m 46s
Bids: 0
HORNBY 00 GAUGE R052 CLASS 3F 0-6-0 JINTY TANK LOCOMOTIVE 16440 UNBOXED - Auction

Location: Knutsford, United Kingdom
Condition: Used
Current Price: £7.60 GBP
Time Left: 1d 22h 49m 42s
Bids: 1
S4009/1 HORNBY TRIANG FLANGED BUSHED DRIVE WHEEL JINTY 0-6-0T L1A - Store Inventory

Location: Bristol, United Kingdom
Condition: New
Current Price: £1.50 GBP
Time Left: 2d 10h 30m 5s
Bids: 0
TRIANG HORNBY 57xx ,3F, CLASS 08 " POWER PICK UP " GWO (A) - Auction

Location: Spalding, United Kingdom
Condition: Used
Current Price: £3.99 GBP
Time Left: 2d 11h 53m 9s
Bids: 0
HORNBY A3 F.SCOTSMAN/CORONATION " MOTION BRACKET " VGWO - Auction

Location: Spalding, United Kingdom
Condition: Used
Current Price: £1.99 GBP
Time Left: 2d 11h 53m 9s
Bids: 0
Hornby Triang R52 0-6-0 3F Jinty # 47606 BR Black OO Gauge - Auction

Location: Newcastle upon Tyne, United Kingdom
Condition: Used
Current Price: £22.99 GBP
Time Left: 2d 13h 49m 56s
Bids: 0
S1039 x 3 hornby triang spare TT magnet screws + weight screw early jinty G1D - Fixed Price

Location: Bristol, United Kingdom
Condition: New
Current Price: £1.35 GBP
Time Left: 2d 14h 24m 18s
Bids: 0
HORNBY R058 LMS 3F CLASS LOCO 0-6-0T No 47458 in BR Black Livery 00 Gauge - Auction

Location: Montrose, United Kingdom
Condition: Used
Current Price: £30.00 GBP
Time Left: 2d 14h 27m 8s
Bids: 0
TRIANG HORNBY LOCO BODIES R53 R52 R251 R450 PRINCESS JINTY 3F DEELEY FOWLER 2P - Store Inventory

Location: Southampton, United Kingdom
Condition: Used
Current Price: £21.87 GBP
Time Left: 2d 15h 11m 58s
Bids: 0
Hornby / Tri-ang Jinty R.32 Not Tested Sold As Spares Or Repair. - Auction

Location: Canterbury, United Kingdom
Condition: Used
Current Price: £5.40 GBP
Time Left: 2d 18h 15m 34s
Bids: 0
Old Meccano Magazine Vol 55 #9~Sep 1970~Hornby 0-6-0 Class 3F Locomotive - Fixed Price

Location: Cleethorpes, United Kingdom
Condition:
Current Price: £6.99 GBP
Time Left: 3d 0h 48m 36s
Bids: 0
HORNBY R251 CLASS 3F " BODY SHELL " BLACK 43775 STEPS & BUFFERS - Auction

Location: Spalding, United Kingdom
Condition: Used
Current Price: £6.99 GBP
Time Left: 3d 9h 37m 22s
Bids: 0
HORNBY R251 CLASS 3F " ROLLING CHASSIS " PICK UP AND CONRODS - Auction

Location: Spalding, United Kingdom
Condition: Used
Current Price: £6.99 GBP
Time Left: 3d 9h 37m 58s
Bids: 0
HORNBY TRIANG JINTY/08/57XX " ROLLING CHASSIS " OPENSPOKE WHEELS - Auction

Location: Spalding, United Kingdom
Condition: Used
Current Price: £4.99 GBP
Time Left: 3d 9h 45m 43s
Bids: 0
S4210R # HORNBY TRIANG SYNCRO SMOKE UNIT COVER PLATE 0-6-0 JINTY U2B - Store Inventory

Location: Bristol, United Kingdom
Condition: New
Current Price: £2.25 GBP
Time Left: 3d 14h 24m 30s
Bids: 0
Hornby R52 0-6-0 3F Jinty No. 47606 B.R. Black Loco With Steam Bag - Auction

Location: Solihull, United Kingdom
Condition: Used
Current Price: £19.99 GBP
Time Left: 4d 11h 47m 28s
Bids: 0
HORNBY OO GAUGE BR CLASS 3F 0-6-0 TENDER LOCOMOTIVE 43775 R251 + R33 - Store Inventory

Location: Pontypool, United Kingdom
Condition: Used
Current Price: £35.99 GBP
Time Left: 4d 15h 9m 0s
Bids: 0
Hornby Spare 3f Body - Fixed Price

Location: Eastleigh, United Kingdom
Condition: Used
Current Price: £19.99 GBP
Time Left: 4d 15h 22m 37s
Bids: 0
00 gauge Hornby R301 LMS Jinty 0-6-0 Tank Engine - Auction

Location: Bristol, United Kingdom
Condition: Used
Current Price: £12.50 GBP
Time Left: 5d 15h 37m 35s
Bids: 0
Hornby R052 LMS Class 3F 0-6-3F JINTY Loco - Auction

Location: Guildford, United Kingdom
Condition: Used
Current Price: £26.00 GBP
Time Left: 5d 19h 46m 16s
Bids: 0
Hornby 00 Gauge R052 BR Black Jinty Locomotive 47480 Used Boxed Runs with Crew - Store Inventory

Location: Caersws, United Kingdom
Condition: Used
Current Price: £35.00 GBP
Time Left: 6d 13h 5m 21s
Bids: 0
TRIANG HORNBY LMS JINTY BLACK LOCO BODY ONLY - No.10 - Store Inventory

Location: Winsford, United Kingdom
Condition: Used
Current Price: £21.95 GBP
Time Left: 6d 17h 6m 24s
Bids: 0
TRIANG HORNBY LMS JINTY BLACK LOCO BODY ONLY - No.11 - Store Inventory

Location: Winsford, United Kingdom
Condition: Used
Current Price: £16.95 GBP
Time Left: 6d 17h 16m 55s
Bids: 0
Hornby OO Gauge R.058 L.M.S Jinty 0-6-0 Tank Locomotive No. 47458 Black. - Fixed Price

Location: Ballyclare, United Kingdom
Condition: New
Current Price: £50.00 GBP
Time Left: 6d 18h 0m 24s
Bids: 0
Hornby R301 LMS Jinty 16440 Crimson body New without Box circa 80's - Fixed Price

Location: Ballyclare, United Kingdom
Condition: New
Current Price: £47.50 GBP
Time Left: 6d 18h 10m 19s
Bids: 0
HORNBY LMS JINTY OR LNER J52/J83 LOCO CHASSIS ONLY - No.2 - Store Inventory

Location: Winsford, United Kingdom
Condition: Used
Current Price: £29.75 GBP
Time Left: 6d 18h 15m 31s
Bids: 0
triang/hornby 0-6-0 jinty chassis weight - Auction

Location: Durham, United Kingdom
Condition: Used
Current Price: £1.50 GBP
Time Left: 7d 7h 19m 18s
Bids: 0
HORNBY LMS JINTY OR LNER J52/J83 LOCO CHASSIS ONLY - No.11 - Store Inventory

Location: Winsford, United Kingdom
Condition: Used
Current Price: £39.75 GBP
Time Left: 7d 10h 32m 43s
Bids: 0
Tri-ang Hornby 0-6-0 Working Chassis Class 3f - Store Inventory

Location: Alexandria, United Kingdom
Condition: Used
Current Price: £27.00 GBP
Time Left: 7d 17h 44m 3s
Bids: 0
HORNBY TRIANG 3 WIRING INSULATOR SLEEVE 0-6-0 JINTY TRAIN MOTOR WIRING ECT - Store Inventory

Location: Bristol, United Kingdom
Condition: New
Current Price: £1.09 GBP
Time Left: 7d 18h 55m 51s
Bids: 0
Hornby/Triang 00 Gauge BR 3F Jinty 0-6-0 Tank Loco R52 #47606 GOOD RUNNER - Auction

Location: Badminton, United Kingdom
Condition: Used
Current Price: £15.00 GBP
Time Left: 7d 20h 5m 58s
Bids: 0
Hornby OO Gauge 0-6-0 3F Jinty LMS 7606 Re-painted - Store Inventory

Location: Ripon, United Kingdom
Condition: Used
Current Price: £19.99 GBP
Time Left: 7d 20h 20m 57s
Bids: 0
HORNBY LMS JINTY RED LOCO BODY ONLY - No.2 - Store Inventory

Location: Winsford, United Kingdom
Condition: Used
Current Price: £19.75 GBP
Time Left: 7d 21h 35m 36s
Bids: 0
Hornby R058 BR "Jinty" Locomotive - Auction

Location: Dudley, United Kingdom
Condition: Used
Current Price: £24.99 GBP
Time Left: 8d 18h 46m 1s
Bids: 0
Hornby 00 Class 3F Jinny Loco Complete Body shell Weathered vgc ! - Fixed Price

Location: Stockport, United Kingdom
Condition: Used
Current Price: £15.99 GBP
Time Left: 8d 20h 51m 0s
Bids: 0
TRIANG HORNBY S2006 4 BRASS BUFFERS FIT JINTY 0-6-0 LOCO, COACH, WAGON SPARES - Store Inventory

Location: Bristol, United Kingdom
Condition: Used
Current Price: £2.99 GBP
Time Left: 10d 15h 14m 30s
Bids: 0
HORNBY /GB R-302 BR BLACK 0-6-0 JINTY TANK LOCO Y/208 - Fixed Price

Location: Dunfermline, United Kingdom
Condition: Used
Current Price: £34.99 GBP
Time Left: 10d 19h 36m 2s
Bids: 0
HORNBY /GB 0-6-0 JINTY/PANNIER ETC TANK CHASSIS ONLY Y/209 - Fixed Price

Location: Dunfermline, United Kingdom
Condition: Used
Current Price: £10.99 GBP
Time Left: 10d 19h 48m 30s
Bids: 0
HORNBY RAILWAYS No.R.301 LMS Class 3F 0-6-0T "JINTY " TANK LOCO MIB - Store Inventory

Location: Grange-Over-Sands, United Kingdom
Condition: Used
Current Price: £59.95 GBP
Time Left: 10d 21h 31m 31s
Bids: 0
HORNBY RAILWAYS MODEL No.R052 LMS Class 3F 0-6-0T "JINTY " TANK LOCO VN MIB - Store Inventory

Location: Grange-Over-Sands, United Kingdom
Condition: Used
Current Price: £55.00 GBP
Time Left: 10d 21h 34m 38s
Bids: 0
HORNBY RAILWAYS MODEL No.R052 LMS Class 3F 0-6-0T "JINTY " TANK LOCO - Store Inventory

Location: Grange-Over-Sands, United Kingdom
Condition: Used
Current Price: £45.00 GBP
Time Left: 10d 21h 36m 46s
Bids: 0
TRIANG HORNBY LMS JINTY BLACK LOCO BODY ONLY - No.8 - Store Inventory

Location: Winsford, United Kingdom
Condition: Used
Current Price: £24.95 GBP
Time Left: 10d 23h 14m 9s
Bids: 0
Hornby 00 Class 3F /Pannier 0-6-0 Locomotive Complete Motorised ChassisVvgc !!! - Fixed Price

Location: Stockport, United Kingdom
Condition: Used
Current Price: £23.99 GBP
Time Left: 11d 9h 38m 16s
Bids: 0
Hornby 00 Class 3F /Pannier 0-6-0 Locomotive Complete Motorised ChassisVvgc !!! - Fixed Price

Location: Stockport, United Kingdom
Condition: Used
Current Price: £23.99 GBP
Time Left: 11d 9h 38m 49s
Bids: 0
Hornby R.058 0-6-0 Jinty 3F Tank loco Repainted now LMS 7410, Not Boxed - Store Inventory

Location: Poole, United Kingdom
Condition: Used
Current Price: £28.00 GBP
Time Left: 11d 15h 17m 52s
Bids: 0
Hornby R.052 0-6-0 Jinty 3F Tank loco Repainted now LMS 7339, Not Boxed - Store Inventory

Location: Poole, United Kingdom
Condition: Used
Current Price: £26.00 GBP
Time Left: 11d 15h 19m 30s
Bids: 0
Triang Hornby 00 Gauge R52 0-6-0 Jinty 3F Tank Locomotive Black 47606 Boxed Loco - Fixed Price

Location: United Kingdom
Condition: Used
Current Price: £34.99 GBP
Time Left: 11d 19h 45m 40s
Bids: 0
Hornby R301 0-6-0T LMS Class 3F No 16440 Loco Made in Great Britain VGC - Fixed Price

Location: Rotherham, United Kingdom
Condition: Used
Current Price: £40.00 GBP
Time Left: 12d 8h 7m 33s
Bids: 0
Hornby 00 class 3F locomotive body shell Only Vgc!!! - Fixed Price

Location: Stockport, United Kingdom
Condition: Used
Current Price: £16.99 GBP
Time Left: 12d 20h 26m 55s
Bids: 0
Hornby R052 L.M.S 0-6-0T Jinty OO Gauge Locomotive Model Railway Boxed - VGC - Store Inventory

Location: Rotherham, United Kingdom
Condition: Used
Current Price: £40.00 GBP
Time Left: 14d 9h 23m 43s
Bids: 0
Hornby 00 Class 3F Jinty 0-6-0 47646 in Black Locomotive Body Shell R1075jinty - Fixed Price

Location: Sandwich, United Kingdom
Condition: Used
Current Price: £15.00 GBP
Time Left: 14d 13h 7m 30s
Bids: 0
"OO"Tenders-Tri-ang/Hornby Dublo etc.,from only £4.95 each - poor to mint/unboxd - Store Inventory

Location: Alfreton, United Kingdom
Condition: Used
Current Price: £18.00 GBP
Time Left: 14d 16h 45m 49s
Bids: 0
"OO"Tenders-Tri-ang/Hornby Dublo etc.,from only £4.95 each - poor to mint/unboxd - Store Inventory

Location: Alfreton, United Kingdom
Condition: Used
Current Price: £14.95 GBP
Time Left: 14d 16h 45m 49s
Bids: 0
HORNBY 00 R2674 LMS 0-6-0 3F JINTY LOCOMOTIVE, DC POWER, MINT IN BOX, RUNS WELL - Fixed Price

Location: Bodmin, United Kingdom
Condition: Used
Current Price: £36.00 GBP
Time Left: 14d 17h 32m 6s
Bids: 0
TRIANG HORNBY LMS JINTY BLACK LOCO BODY ONLY - No.5 - Store Inventory

Location: Winsford, United Kingdom
Condition: Used
Current Price: £7.95 GBP
Time Left: 14d 21h 55m 21s
Bids: 0
Hornby 00 Class 3F /Pannier 0-6-0 Locomotive Complete Motorised ChassisVvgc !!! - Fixed Price

Location: Stockport, United Kingdom
Condition: Used
Current Price: £24.99 GBP
Time Left: 15d 0h 50m 26s
Bids: 0
Hornby 00 Class 3F /Pannier 0-6-0 Locomotive Complete Motorised ChassisVvgc !!! - Fixed Price

Location: Stockport, United Kingdom
Condition: Used
Current Price: £24.99 GBP
Time Left: 15d 0h 52m 32s
Bids: 0
230720/42 Hornby BR Black Jinty 47606 Body Only - Store Inventory

Location: Stonehouse, United Kingdom
Condition: Used
Current Price: £4.99 GBP
Time Left: 15d 8h 1m 26s
Bids: 0
hornby railways r 052 l. m. s. 0 6 ot jinty loco - Fixed Price

Location: Hornchurch, United Kingdom
Condition: Used
Current Price: £30.00 GBP
Time Left: 15d 13h 48m 48s
Bids: 0
OO GAUGE HORNBY - 3 JINTY 0-6-0 BODYSHELLS - JUST SPARES PARTS - - Fixed Price

Location: Abergavenny, United Kingdom
Condition: Used
Current Price: £15.50 GBP
Time Left: 15d 22h 21m 5s
Bids: 0
OO GAUGE HORNBY - 3F 0-6-0 JINTY BODYSHELL - JUST SPARES PARTS - DAMAGED - Fixed Price

Location: Abergavenny, United Kingdom
Condition: Used
Current Price: £12.50 GBP
Time Left: 15d 22h 21m 7s
Bids: 0
Hornby 00 Gauge R052 BR Black Jinty Locomotive 47347 Used Boxed Runs with Driver - Store Inventory

Location: Caersws, United Kingdom
Condition: Used
Current Price: £34.50 GBP
Time Left: 16d 6h 57m 9s
Bids: 0
S3386 # HORNBY TRIANG FRONT BOGIE LINK BAR 3F J6D - Fixed Price

Location: Bristol, United Kingdom
Condition: New
Current Price: £1.25 GBP
Time Left: 16d 15h 8m 2s
Bids: 0
Hornby Dcc Fitted Jinty 3F SDJR Livery No.24 (OO Scale) Unboxed - Store Inventory

Location: Peterborough, United Kingdom
Condition: Used
Current Price: £49.50 GBP
Time Left: 16d 15h 39m 48s
Bids: 0
Hornby Triang R52 0-6-0 3F Jinty # 47606 BR Black OO Gauge Loco - Fixed Price

Location: Lisburn, United Kingdom
Condition: Used
Current Price: £23.00 GBP
Time Left: 17d 9h 4m 34s
Bids: 0
Hornby 00 class 3F locomotive body shell Only gc!!! - Fixed Price

Location: Stockport, United Kingdom
Condition: Used
Current Price: £12.99 GBP
Time Left: 17d 12h 39m 55s
Bids: 0
Hornby 3F Body Shell 47606 - Store Inventory

Location: Alexandria, United Kingdom
Condition: Used
Current Price: £7.00 GBP
Time Left: 18d 10h 39m 50s
Bids: 0
TRIANG HORNBY X73 SPRING FOR TRAIN MOTOR X03 X04 BR JINTY TANK ENGINE ECT - Store Inventory

Location: Bristol, United Kingdom
Condition: New
Current Price: £1.49 GBP
Time Left: 18d 12h 31m 6s
Bids: 0
HORNBY R2469 WEATHERED LMS BLACK 0-6-0 JINTY CLASS 3F TANK LOCOMOTIVE 16624 pa - Store Inventory

Location: Warwick, United Kingdom
Condition: New
Current Price: £47.50 GBP
Time Left: 18d 15h 45m 31s
Bids: 0
240720/36 Hornby BR Black 47458 Jinty Body Only - Store Inventory

Location: Stonehouse, United Kingdom
Condition: Used
Current Price: £4.99 GBP
Time Left: 18d 16h 54m 34s
Bids: 0
HORNBY OO GAUGE BR CLASS 3F 0-6-0 TENDER LOCOMOTIVE 43775 R251 + R33 - Store Inventory

Location: Pontypool, United Kingdom
Condition: Used
Current Price: £38.99 GBP
Time Left: 19d 15h 54m 23s
Bids: 0
Hornby 00 Class 3F LMS Locomotive Body Shell Only New !! - Fixed Price

Location: Stockport, United Kingdom
Condition: Used
Current Price: £18.99 GBP
Time Left: 19d 18h 45m 56s
Bids: 0
Hornby LMS Jinty body for current Hornby models - Fixed Price

Location: Twickenham, United Kingdom
Condition: Used
Current Price: £12.00 GBP
Time Left: 19d 19h 39m 21s
Bids: 0
Hornby 00 Gauge R052 BR Black Jinty Locomotive 47458 Used Boxed Runs with Crew - Store Inventory

Location: Caersws, United Kingdom
Condition: Used
Current Price: £32.95 GBP
Time Left: 20d 8h 32m 39s
Bids: 0
Hornby Triang Jinty 0-6-0 Tank Locomotive Black 47606, not boxed - Fixed Price

Location: Milton Keynes, United Kingdom
Condition: Used
Current Price: £22.99 GBP
Time Left: 20d 12h 5m 27s
Bids: 0
HORNBY LMS JINTY BLACK LOCO BODY ONLY - No.12 - Store Inventory

Location: Winsford, United Kingdom
Condition: Used
Current Price: £11.95 GBP
Time Left: 20d 22h 26m 56s
Bids: 0
Hornby R052 LMS Class 3F 0-6-0T Jinty No. 16440 Loco OO Gauge Boxed - Store Inventory

Location: Doncaster, United Kingdom
Condition: Used
Current Price: £44.95 GBP
Time Left: 21d 10h 13m 40s
Bids: 0
Hornby R053 BR 0-6-0T Locomotive Class 3F - Store Inventory

Location: Newark, United Kingdom
Condition: Used
Current Price: £40.00 GBP
Time Left: 21d 12h 0m 45s
Bids: 0
HORNBY 00 GAUGE - R058 - BR BLACK 0-6-0 JINTY TANK LOCOMOTIVE 47458 - UNBOXED - Store Inventory

Location: Bradford, United Kingdom
Condition: Used
Current Price: £29.99 GBP
Time Left: 21d 13h 53m 23s
Bids: 0
HORNBY LMS MR MAROON 0-6-0 JINTY CLASS 3F TANK LOCOMOTIVE 16440 DATED 2004 nw - Store Inventory

Location: Warwick, United Kingdom
Condition: Used
Current Price: £37.50 GBP
Time Left: 21d 17h 40m 14s
Bids: 0
PART KIT BUILT / HORNBY MODEL No.R301 BR CLass 3F 0-6-0T No. TANK LOCO - Store Inventory

Location: Grange-Over-Sands, United Kingdom
Condition: Used
Current Price: £100.00 GBP
Time Left: 21d 22h 54m 19s
Bids: 0
Hornby 00 Class 3F /Pannier 0-6-0 Locomotive Complete Motorised Chassis New !!! - Fixed Price

Location: Stockport, United Kingdom
Condition: New
Current Price: £29.99 GBP
Time Left: 22d 16h 38m 47s
Bids: 0
TRIANG HORNBY 4 SMALL ROUND BRASS BUFFERS TRAIN JINTY SHUNTER 0-6-0 ECT SPARES - Store Inventory

Location: Bristol, United Kingdom
Condition: Used
Current Price: £3.99 GBP
Time Left: 22d 22h 23m 40s
Bids: 0
Hornby 00 class 3F locomotive body shell Only VVgc!!! - Fixed Price

Location: Stockport, United Kingdom
Condition: Used
Current Price: £23.99 GBP
Time Left: 22d 23h 46m 21s
Bids: 0
Class 3F Jinty Tank Locomotive on ebay US

Search For: 'hornby (3f,jinty)'
Ending Soonest
Class 3F Jinty Tank Locomotive on ebay Australia

Search For: 'hornby (3f,jinty)'
Ending Soonest