Model Year Details
2010 - L.N.E.R. Clerestory Brake Coach

3857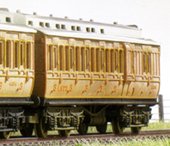 Model:
L.N.E.R. Clerestory Brake Coach
(Overall Model page)
Running Number:
3857
Category:
Passenger Rolling Stock

Model Information:
Length - 19.1cm.
Available only in set.
Models Produced:
---
Company:
L.N.E.R. -
London & North Eastern Railway
Logo:
L.N.E.R. Crest
Logo Years:
1923 - 1947

Livery:
L.N.E.R. Teak

Livery Details:
Teak finish with yellow lettering.
Company Information:
The second biggest of Britains post grouping railway companies formed in 1923. Some very famous locomotives were designed and operated by the L.N.E.R. including the Flying Scotsman and the Mallard.
Year:
2010
Catalogue Number:
---
Year Information:
---
Publication:
Hornby - Edition Fifty-Six 2010 - OO Gauge Model Railways & Accessories
Publication Type:
Catalogue
Publication Edition:
56th Edition

Logo & Box Design:


UK Price List:
---
Aust Price List:
---
Can Price List:
---
Model Ranking:
Current: 872 -
September 2021
Previous: 1023 -
August 2021
Movement:

(+151)
Model Year Details
(2)
Train Sets Included In
(1)
Model Photos & Notes
(0)
L.N.E.R. Clerestory Brake Coach on ebay UK

Search For: 'hornby lner clerestory'
Ending Soonest
ITEM
DETAILS
Hornby R.391 LNER Clerestory Composite Coach,BOXED VGC - Auction

Location: Barnard Castle, United Kingdom
Condition: Used
Current Price: £15.00 GBP
Time Left: 0d 8h 11m 0s
Bids: 0
HORNBY R.25 L.N.E.R. CLERESTORY BRAKE COACH NEW OO GAUGE - Fixed Price

Location: Pontefract, United Kingdom
Condition: New
Current Price: £29.99 GBP
Time Left: 1d 14h 27m 27s
Bids: 0
HORNBY RAKE OF 3 TEAK CLERESTORY COACHES  LNER  UNUSED BOXED R391 R499  - Auction

Location: Farnham, United Kingdom
Condition: Used
Current Price: £30.00 GBP
Time Left: 2d 14h 18m 51s
Bids: 0
Hornby Short Clerestory all 3rd /Composite LNER R/N 2247 - Fixed Price

Location: Romford, United Kingdom
Condition: Used
Current Price: £17.00 GBP
Time Left: 5d 5h 43m 6s
Bids: 0
HORNBY LNER CLERESTORY COACH EMPTY BOX ONLY - No.1 - Store Inventory

Location: Winsford, United Kingdom
Condition: Used
Current Price: £6.95 GBP
Time Left: 6d 10h 3m 30s
Bids: 0
Hornby Railways R.024 LNER Clerestory 1st Class Coach No.61456 Boxed - Auction

Location: Edinburgh, United Kingdom
Condition: Used
Current Price: £12.00 GBP
Time Left: 7d 6h 23m 16s
Bids: 0
Hornby Railways R.024 LNER Clerestory 1st Class Coach No.61456 Boxed - Auction

Location: Edinburgh, United Kingdom
Condition: Used
Current Price: £12.00 GBP
Time Left: 7d 6h 25m 4s
Bids: 0
HORNBY OO GAUGE R391 + R449 RAKE OF 3 x LNER CLERESTORY COACHES BOXED - Fixed Price

Location: Andover, United Kingdom
Condition: Used
Current Price: £65.00 GBP
Time Left: 9d 6h 9m 7s
Bids: 0
Hornby Railways OO R.25 LNER CLERESTORY BRAKE COACH Boxed - Fixed Price

Location: Devizes, United Kingdom
Condition: Used
Current Price: £18.00 GBP
Time Left: 14d 10h 28m 55s
Bids: 0
Triang Hornby OO Gauge R24 LNER Short Clerestory Coach Teak Finish 61456 Boxed - Fixed Price

Location: Spalding, United Kingdom
Condition: Used
Current Price: £19.99 GBP
Time Left: 19d 2h 44m 58s
Bids: 0
HORNBY R024 LNER CLERESTORY COMPOSITE COACH 61456 TEAK 00 GAUGE NEW - Store Inventory

Location: Tamworth, United Kingdom
Condition: New
Current Price: £25.49 GBP
Time Left: 21d 9h 12m 37s
Bids: 0
Hornby LNER Clerestory Brake Coach 1475 - Fixed Price

Location: Spalding, United Kingdom
Condition: Used
Current Price: £19.99 GBP
Time Left: 22d 3h 27m 11s
Bids: 0
Hornby LNER Short Clerestory Coach Composite 2247 & Brake 1475 - Fixed Price

Location: Spalding, United Kingdom
Condition: Used
Current Price: £39.99 GBP
Time Left: 22d 3h 28m 30s
Bids: 0
HORNBY R24 R25 RAKE of 2 LNER CLERESTORY COMPOSITE & BRAKE COACH oa - Fixed Price

Location: Warwick, United Kingdom
Condition: Used
Current Price: £39.50 GBP
Time Left: 24d 10h 30m 4s
Bids: 0
Rake of 5 Hornby Railways LNER Teak Clerestory Coaches 00 Scale/Gauge - Fixed Price

Location: Nelson, United Kingdom
Condition: Used
Current Price: £65.00 GBP
Time Left: 25d 5h 24m 23s
Bids: 0
R24 Hornby LNER 61456 Clerestory Coach - Fixed Price

Location: United Kingdom
Condition: Used
Current Price: £17.97 GBP
Time Left: 26d 0h 32m 33s
Bids: 0
R024 Hornby LNER Clerestory No.62420 Coach,OO Gauge ,Teak Livery composite coach - Fixed Price

Location: Reading, United Kingdom
Condition: Used
Current Price: £12.99 GBP
Time Left: 26d 0h 47m 4s
Bids: 0
HORNBY OO GAUGE L.N.E.R. TEAK CLERESTORY COACH R24 [BOXED] - Fixed Price

Location: Reading, United Kingdom
Condition: Used
Current Price: £17.99 GBP
Time Left: 30d 4h 28m 41s
Bids: 0
HORNBY OO GAUGE L.N.E.R. TEAK CLERESTORY BRAKE COACH R25 [BOXED] - Fixed Price

Location: Reading, United Kingdom
Condition: Used
Current Price: £17.99 GBP
Time Left: 30d 4h 29m 59s
Bids: 0
HORNBY R024 LNER CLERESTORY COMPOSITE COACH 61456 TEAK 00 GAUGE MINT - Store Inventory

Location: Tamworth, United Kingdom
Condition: Used
Current Price: £23.49 GBP
Time Left: 30d 9h 16m 57s
Bids: 0
HORNBY R024 LNER CLERESTORY COMPOSITE COACH 61456 TEAK 00 GAUGE NEW - Store Inventory

Location: Tamworth, United Kingdom
Condition: Used
Current Price: £25.49 GBP
Time Left: 30d 9h 22m 33s
Bids: 0
L.N.E.R. Clerestory Brake Coach on ebay US

Search For: 'hornby lner clerestory'
Ending Soonest
L.N.E.R. Clerestory Brake Coach on ebay Australia

Search For: 'hornby lner clerestory'
Ending Soonest