Model Details
The Last Single Wheeler Train Pack (Dean Single)

14010

Years Released: 2009 2010 2011 (Model Year pages)
Model released for 3 years. (Model may have been released after 2011)
Model:
The Last Single Wheeler Train Pack (Dean Single)
Running Number:
14010
Category:
Train Packs

Locomotive Class:
Caledonian Single 4-2-2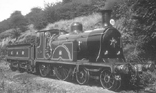 Designer:
Neilson & Co
Class Information:
This unique Caledonian Railway 4-2-2 Single, winner of the Gold Medal at the Edinburgh International Exhibition in 1886 was destined for celebrity status as a steam locomotive, being one of the earliest steam locomotives set aside for preservation.
More...
Weight:
42 tons
Purpose:
Mixed Traffic
Wheel Arrangement:
4-2-2
Wheel Arrangement Name:
Single Wheeler

Model Information:
Coach running numbers: 3546 3547 6618
Models Produced:
---
Logo & Box Style:

2009
2010
2011
Company:
L.M.S. -
London Midland & Scottish Railway
Logo:
L.M.S. Crest
Logo Years:
1923 - 1947
Livery:
L.M.S. Crimson

Livery Details:
Crimson lake with yellow lettering and black lining.
Company Information:
The biggest of Britains big four post grouping railway companies formed in 1923. Made up from 34 company lines including the Caledonian, Midland and Somerset & Dorset Joint Railways. Express trains from London to Glasgow were a feature of this company.
Model Ranking:
Current: 2583 -
July 2022
Previous: 1380 -
June 2022
Movement:

(-1203)
Model Year Details
(3)
Limited Edition
| YEAR | LIMITED |
| --- | --- |
| 2009 | Limited Edition 2000 |
| 2010 | Limited Edition 2000 |
| 2011 | Limited Edition 2000 |
Model Photos & Notes
(0)
Model Catalogue Information
| YEAR | INFORMATION |
| --- | --- |
| 2009 | Designed in part by Dugald Drummond who was the Chief Engineer of the Caledonian Railway and built as a solitary example of its class by Neilson & Co in 1886, the 4-2-2 saw extensive service in the late 19th Century when operating the express service between Carlisle and Edinburgh, known at the time as "Race to Scotland". After the First World War the 4-2-2 locomotive was reserved for hauling the director's coach but in 1930 after acquiring the Crimson Lake liver of the LMS the locomotive reverted back to ordinary traffic working local train services between Perth and Dundee making it the last Single Wheeler to work in traffic in the British Isles. Each specially presented limited edition train pack includes a numbered certificate. |
| 2010 | Designed in part by Dugald Drummond who was the Chief Engineer of the Caledonian Railway and built as a solitary example of its class by Neilson & Co in 1886, the 4-2-2 saw extensive service in the late 19th Century when operating the express service between Carlisle and Edinburgh, known at the time as "Race to Scotland". After the First World War the 4-2-2 locomotive was reserved for hauling the director's coach but in 1930 after acquiring the Crimson Lake livery of the LMS the locomotive reverted back to ordinary traffic working local train services between Perth and Dundee making it the last Single Wheeler to work in traffic in the British Isles. Each specially presented limited edition train pack includes a numbered certificate. |
| 2011 | Designed in part by Dugald Drummond who was the Chief Engineer of the Caledonian Railway and built as a solitary example of its class by Neilson & Co in 1886, the 4-2-2 saw extensive service in the late 19th Century when operating the express service between Carlisle and Edinburgh, known at the time as "Race to Scotland". After the First World War the 4-2-2 locomotive was reserved for hauling the director's coach but in 1930 after acquiring the Crimson Lake livery of the LMS the locomotive reverted back to ordinary traffic working local train services between Perth and Dundee making it the last Single Wheeler to work in traffic in the British Isles. Each specially presented limited edition train pack includes a numbered certificate. |
Catalogue Images
(3)


R.2806 The Last Single Wheeler Train Pack (Dean Single) - 2009


R.2806 The Last Single Wheeler Train Pack (Dean Single) - 2010


R.2806 The Last Single Wheeler Train Pack (Dean Single) - 2011
The Last Single Wheeler Train Pack (Dean Single) on ebay US

Search For: 'hornby last single'