Publication
Hornby Railways OO Scale Model Catalogue ...welcome to our world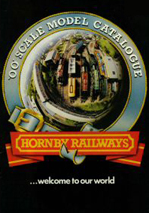 Year: 1980
Publication: Hornby Railways OO Scale Model Catalogue ...welcome to our world
Type: Catalogue
Edition: 26th Edition
Information: Arguably the best Hornby catalogue ever! Many pictures of the brilliant 1980 catalogue layout. Every boy and man in the world would dream of having a Hornby train set like that!
1980 Catalogued Train Sets
(10)
1980 Catalogued Steam Locomotives
(18)
1980 Catalogued Diesel Electric Locomotives
(9)
1980 Catalogued Train Packs
(1)
1980 Catalogued Passenger Rolling Stock
(24)
1980 Catalogued Freight Rolling Stock
(35)