Model Details
G.W.R. 0-4-0 Class 101 1835 - 2010 Locomotive - G.W.R. 175 Celebration Model

101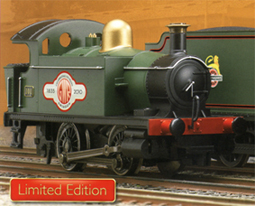 Years Released: 2010 (Model Year pages)
Model released for 1 year.
Model:
G.W.R. 0-4-0 Class 101 1835 - 2010 Locomotive - G.W.R. 175 Celebration Model
Running Number:
101
Category:
Steam Locomotives

Locomotive Class:
Class 101 Holden Tank
Designer:
James Holden
Class Information:
This 0-4-0T was a one off experimental oil burning locomotive built at Swindon Works under the direction of William Deanís Chief Engineer, James Holden in 1901
More...
Weight:
25 tons - Estimated
Purpose:
Experimental design
Wheel Arrangement:
0-4-0

Model Information:
On the 31 August 1835, railway history was created when, by Act of Parliament, The Great Western Railway was born.
The innovative GWR steered by the giant of Victorian engineering, Isambard Kingdom Brunel, was to make an immense impact upon the world of railway travel. Extremely autocratic and fiercely independent, even after the birth of British Railways and their standardisation programme, the GWR retained its indomitable spirit.
In acknowledgement of the enormous contribution mad by the Great Western Railway to not only rail travel but also society as a whole an official celebration is planned by Steam - The Museum of The Great Western Railway throughout this year to commemorate 175 years of the GWR's inauguration.
Length - 108mm.
Models Produced:
* 1,835
* Information from
Triang & Hornby, The Story of Rovex, Volumes 1, 2 and 3 - Pat Hammond
Logo & Box Style:

2010
Company:
G.W.R. -
Great Western Railway
Logo:
G.W.R. Roundel
Logo Years:
1934 - 1942

Livery:
G.W.R. Green

Livery Details:
Brunswick green with gilt lettering, and orange and black lining.
Company Information:
The G.W.R. was formed as a railway company in 1835 and was the only company to survive the 1923 grouping, to become one of the big four. The King and Castle class locomotives were amongst the most famous G.W.R. steam designs.
Model Ranking:
Current: 1765 -
September 2021
Previous: 2066 -
August 2021
Movement:

(+301)
Model Year Details
(1)
Limited Edition
| YEAR | LIMITED |
| --- | --- |
| 2010 | Limited Edition |
Model Photos & Notes
(0)
Model Catalogue Information
| YEAR | INFORMATION |
| --- | --- |
| 2010 | A special limited production 0-4-0 locomotive carrting the celebratory insignia of the GWR 175 celebrations. Limited production of 1835. |
Catalogue Images
(1)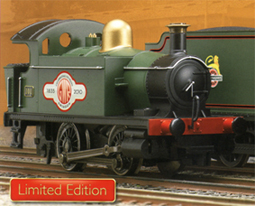 R.2957 G.W.R. 0-4-0 Class 101 1835 - 2010 Locomotive - G.W.R. 175 Celebration Model - 2010
G.W.R. 0-4-0 Class 101 1835 - 2010 Locomotive - G.W.R. 175 Celebration Model on ebay UK

Search For: 'hornby 175'
Ending Soonest
ITEM
DETAILS
HORNBY R2957 GWR 0-4-0 CLASS 101 LIMITED EDITION OF 1835 GWR 175th EXC BOXED RUN - Auction

Location: United Kingdom
Condition: Used
Current Price: £30.00 GBP
Time Left: 0d 3h 57m 30s
Bids: 0
HORNBY R758 PATRIOT TENDER BODY SHELL L5046 NEW SPARES 175 - Fixed Price

Location: Preston, United Kingdom
Condition: Used
Current Price: £4.95 GBP
Time Left: 0d 17h 38m 48s
Bids: 0
PRE WAR 1929(#429/175)APPLICATION MEMBERSHIP FORM(HORNBY RAILWAY COMPANY)MECCANO - Auction

Location: Bridlington, United Kingdom
Condition: Used
Current Price: £4.00 GBP
Time Left: 1d 2h 30m 30s
Bids: 1
Tri-ang/Hornby - R.175 Single Track Level Crossing ~ As Pictured - Fixed Price

Location: Haverfordwest, United Kingdom
Condition: Used
Current Price: £20.00 GBP
Time Left: 2d 0h 56m 29s
Bids: 0
N GAUGE WAGON FOR Farish Peco Dapol Hornby RAILWAY LAYOUTS R175 - Fixed Price

Location: Bournemouth, United Kingdom
Condition: Used
Current Price: £9.99 GBP
Time Left: 2d 9h 13m 10s
Bids: 0
HORNBY RAILWAYS MODEL R.175 BR CLASS 4P 4-4-0 "COMPOUND" LOCO "RARE" VN MIB - Fixed Price

Location: Grange-Over-Sands, United Kingdom
Condition: Used
Current Price: £100.00 GBP
Time Left: 3d 7h 43m 2s
Bids: 0
HORNBY RAILWAYS MODEL R.175 BR CLASS 4P No.41043 4-4-0 "COMPOUND" LOCO VN MIB - Fixed Price

Location: Grange-Over-Sands, United Kingdom
Condition: Used
Current Price: £85.00 GBP
Time Left: 3d 7h 44m 24s
Bids: 0
Hornby O Gauge No.1 Timber Wagon R175 - Excellent In Original Box - Auction

Location: Bedford, United Kingdom
Condition: Used
Current Price: £4.00 GBP
Time Left: 4d 7h 44m 5s
Bids: 0
Hornby 00 R175 MR 4-4-0 Compound Class 4P 41043 BR Lined Gloss Black Livery New - Fixed Price

Location: Blackpool, United Kingdom
Condition: New
Current Price: £78.00 GBP
Time Left: 5d 2h 28m 3s
Bids: 0
1931 Engagement Lady Veronica Temple-Blackwood Antony Hornby Photo Article D175 - Fixed Price

Location: Worcester, United Kingdom
Condition: Used
Current Price: £15.00 GBP
Time Left: 5d 3h 44m 40s
Bids: 0
HORNBY R175 BR BLACK 4-4-0 COMPOUND CLASS 4P MINT UNUSED BOXED RARE (WA) - Fixed Price

Location: Downham Market, United Kingdom
Condition: Used
Current Price: £68.50 GBP
Time Left: 5d 22h 46m 15s
Bids: 0
HORNBY R2957 CLASS 101 GWR 175 YEARS LIMITED EDITION SWINDON COLLECTION NO BOX - Fixed Price

Location: Bournemouth, United Kingdom
Condition: Used
Current Price: £24.99 GBP
Time Left: 5d 23h 27m 54s
Bids: 0
VINTAGE HORNBY TRAINS O GAUGE TINPLATE NO1 TIMBER WAGON. R175. ORIGINAL BOX. - Auction

Location: Sheffield, United Kingdom
Condition: Used
Current Price: £9.99 GBP
Time Left: 6d 6h 32m 37s
Bids: 0
BACHMANN 39-175X BR MK1 GENERATOR NETWORK RAIL + HORNBY R4901 NETWORK RAIL MK2F - Fixed Price

Location: St. Andrews, United Kingdom
Condition: Used
Current Price: £90.00 GBP
Time Left: 9d 0h 27m 0s
Bids: 0
c1933 O Gauge - HORNBY SERIES M3 Clockwork Tank Locomotive / Great Western 6600 - Fixed Price

Location: Luton, United Kingdom
Condition: Used
Current Price: £74.95 GBP
Time Left: 10d 0h 55m 1s
Bids: 0
MS175 HORNBY TRIANG SMALL SHEET PHOSPHER BRONZE† † P11B - Fixed Price

Location: Bristol, United Kingdom
Condition: New
Current Price: £4.25 GBP
Time Left: 13d 3h 20m 3s
Bids: 0
HORNBY RAILWAYS OO GAUGE R600 NICKEL SILVER STRAIGHTS X 8 LOT.175 - Store Inventory

Location: Evesham, United Kingdom
Condition: Used
Current Price: £11.95 GBP
Time Left: 13d 16h 24m 41s
Bids: 0
Hornby no 1 timber wagon O Gauge R175 - Fixed Price

Location: Lytham St. Annes, United Kingdom
Condition: Used
Current Price: £22.47 GBP
Time Left: 13d 19h 20m 7s
Bids: 0
475 Vintage Hornby R175 Class 4P 4-4-0 Compound 41043 Boxed Excellent Cond - Fixed Price

Location: Rickmansworth, United Kingdom
Condition: Used
Current Price: £94.00 GBP
Time Left: 14d 0h 6m 43s
Bids: 0
Hornby R175 4-4-0 Compound Class 4P Loco No. 41043 British Railways black- Bixed - Fixed Price

Location: Ulverston, United Kingdom
Condition: Used
Current Price: £39.80 GBP
Time Left: 15d 20h 37m 45s
Bids: 0
HORNBY R2957 CLASS 101 GWR 175 YEARS LIMITED EDITION SWINDON COLLECTION NO BOX - Fixed Price

Location: Liskeard, United Kingdom
Condition: Used
Current Price: £29.99 GBP
Time Left: 16d 20h 40m 49s
Bids: 0
HORNBY R175 WEATHERED BR BLACK 4-4-0 CLASS 4P COMPOUND LOCOMOTIVE 41043 ny - Store Inventory

Location: Warwick, United Kingdom
Condition: Used
Current Price: £84.50 GBP
Time Left: 18d 2h 43m 51s
Bids: 0
Hornby R175-LN-01 4-4-0 4P Compound Locomotive - Fixed Price

Location: Spalding, United Kingdom
Condition: Used
Current Price: £49.00 GBP
Time Left: 20d 22h 48m 35s
Bids: 0
Hornby H175 Ringfield Block Connector (Copper Terminal) 130mm - Fixed Price

Location: Middlesbrough, United Kingdom
Condition: New
Current Price: £1.05 GBP
Time Left: 21d 23h 12m 7s
Bids: 0
Hornby R175 BR 4-4-0 Compound Class 4P Loco 41043 black boxed OO (f) - Fixed Price

Location: Saxmundham, United Kingdom
Condition: Used
Current Price: £62.50 GBP
Time Left: 22d 0h 16m 18s
Bids: 0
Vintage O Gauge - HORNBY TRAINS No. 1 Timber Wagon - R175 Made In England - Fixed Price

Location: Plymouth, United Kingdom
Condition: Used
Current Price: £14.99 GBP
Time Left: 22d 4h 44m 37s
Bids: 0
THE HORNBY RAILWAY COLLECTOR JOURNAL/MAGAZINE 1982 / 83 & 84 ( CHOOSE ). - Store Inventory

Location: Skegness, United Kingdom
Condition:
Current Price: £2.50 GBP
Time Left: 23d 0h 55m 24s
Bids: 0
Triang Hornby H175 USED DMU Power Car Underframe Details - Fixed Price

Location: Middlesbrough, United Kingdom
Condition: New
Current Price: £4.99 GBP
Time Left: 23d 1h 13m 42s
Bids: 0
Triang Hornby H175/1 USED DMU Power Car Underframe Details - Fixed Price

Location: Middlesbrough, United Kingdom
Condition: New
Current Price: £4.50 GBP
Time Left: 23d 1h 13m 44s
Bids: 0
Hornby R175 Vintage Timber Wagon (Gauge O) - Fixed Price

Location: Holyhead, United Kingdom
Condition: Used
Current Price: £24.95 GBP
Time Left: 23d 3h 35m 48s
Bids: 0
Rare Vintage Hornby 0 Gauge Boxed R175 No.1 Timber Wagon Meccano - Fixed Price

Location: Chelmsford, United Kingdom
Condition: Used
Current Price: £10.00 GBP
Time Left: 27d 7h 3m 8s
Bids: 0
HORNBY R175 BR COMPOUND 4-4-0 LOCO 41043 (LOOK) BOXED - Fixed Price

Location: Oswestry, United Kingdom
Condition: Used
Current Price: £59.50 GBP
Time Left: 28d 6h 18m 35s
Bids: 0
Hornby O Gauge No.1 Timber Wagon R175 - Excellent In Original Box - Fixed Price

Location: Exeter, United Kingdom
Condition: Used
Current Price: £18.00 GBP
Time Left: 29d 5h 25m 55s
Bids: 0
Hornby R175 4-4-0 Compound Class 4P Loco No. 41043 British Railways black- Boxed - Fixed Price

Location: Durham, United Kingdom
Condition: Used
Current Price: £45.00 GBP
Time Left: 30d 22h 37m 49s
Bids: 0
Hornby R175 Gwr Freight Set - Fixed Price

Location: Llanelli, United Kingdom
Condition: Used
Current Price: £40.00 GBP
Time Left: 30d 23h 8m 39s
Bids: 0
G.W.R. 0-4-0 Class 101 1835 - 2010 Locomotive - G.W.R. 175 Celebration Model on ebay US

Search For: 'hornby 175'
Ending Soonest
G.W.R. 0-4-0 Class 101 1835 - 2010 Locomotive - G.W.R. 175 Celebration Model on ebay Australia

Search For: 'hornby 175'
Ending Soonest
ITEM
DETAILS
Hornby GWR 175 Dean Single 4-2-2 Limited Edition R2956 Train Pack, not used - Auction

Location: Launceston, TAS, Australia
Condition: New: Other (See Details)
Current Price: $590.00 AUD
Time Left: 2d 10h 21m 36s
Bids: 0
Hornby Trains O Gauge R175 No.1 Timber Wagon Boxed - Fixed Price

Location: Melbourne, VIC, Australia
Condition: Used
Current Price: $50.00 AUD
Time Left: 14d 9h 35m 11s
Bids: 0
Hornby OO Gauge Railways R175 4-4-0 Compound Operating Instructions - Fixed Price

Location: Melbourne, VIC, Australia
Condition:
Current Price: $20.00 AUD
Time Left: 14d 20h 14m 33s
Bids: 0
The Hornby Railway Collector - HRCA Edition 175 December 1984 - Fixed Price

Location: Melbourne, VIC, Australia
Condition:
Current Price: $10.00 AUD
Time Left: 19d 13h 1m 42s
Bids: 0
Hornby OO Gauge Railways R175 BR 4-4-0 Compound Class 4P Locomotive Boxed - Fixed Price

Location: Melbourne, VIC, Australia
Condition: Used
Current Price: $175.00 AUD
Time Left: 27d 11h 1m 6s
Bids: 0