Collector Guide Home - Trains
A Guide To Hornby Railways Catalogued Models

1955 - 2011

19th Edition - 2022
Over 16,000 pages of Hornby information...
'OO' Scale
This site holds information for Tri-ang Railways 1955-1965, Tri-ang Hornby 1966-1972, Tri-ang Wrenn 1969-1972 and post 1972 Hornby Railways, there is no information for Hornby Dublo or Hornby 'O' Gauge.
Update
We are currently not updating the Collecter Guide and not replying to messages sent to us, but please enjoy!
The Collector Guide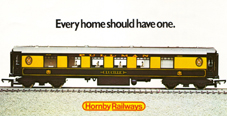 A database designed to hold as many Hornby releases as possible... All catalogued locomotives, coaches, wagons, train sets and train packs have been entered for the years 1955 to 2011, including all Australian, Canadian and Tri-ang Wrenn releases.
The database is as accurate as the Catalogues released. We have listed some Uncatalogued Models for the period up to 2000, but it is far from complete.
For an amazing wealth of extra information in print, for all the models in this database, meet Pat Hammond.



Hornby Railways is the beloved first train set of nearly all model railway fans in the UK and Australia.
The wonderful Tri-ang Railways was first produced around 1950, they became Tri-ang Hornby in 1965 after a company takeover, which changed to Hornby Railways in 1973 after even more boardroom moves... Finally the company settled on Hornby dropping the Railways in 1997.
Catalogues are still made today and the excellent quality remains. Go buy this years now! Todays Hornby models are made in China. All the models in this database up to 1996 were made in the UK, apart from a few in Australia.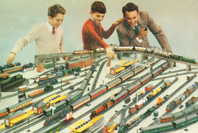 The best and fairest way to purchase or value these past models, in this database, is through eBay. Try our brilliant Hornby eBay Search System, including pre-defined searches.
Hornby Railways may not be the most detailed, or the rarest, or even run the smoothest... but there is magic in the way the whole Hornby World fits together.
From the dreamy catalogues of model train fantasy, to the weak bendable fishplates on 80's Hornby track... Hornby is fantastic fun!
A great day to start the best hobby in the world!
Thanks for visiting.